Upcoming Volunteer Opportunities
Upcoming Volunteer Opportunities
ALL VOLUNTEERS must fill out the schools volunteer paperwork ahead of time.  It takes several days to process the information.  Please plan accordingly.  The paper work can be found here.
Volunteer sign ups and opportunities will be coordinated through our Sign up Genius page.  Please click the link to see all our current and future volunteer opportunities. Thank you for giving your time!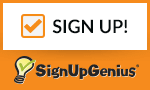 Volunteer Hours
Each family is required to complete at least 5 hours of volunteer service to the school. This can be completed in a variety of ways (i.e. in school, book fair, clubs mentor, field trips, classroom helper, PTO volunteer, volunteering at school events, etc.). Each person volunteering must complete the volunteer registration documents – available at the school.
If you would like to volunteer in the classroom or at lunch please contact your child's teacher directly.